January 11, 2010
Natalie Portman has got a point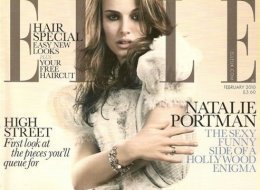 Natalie Portman raised some eyebrows last week when she stated that she avoids Jewish roles, romantic comedies, and playing the "sex object," in an interview with Elle magazine. I, for one, was watching to see if there would be blow-back from the Jewish community, perhaps offended that she didn't like playing Jewish characters. Rather than reflect poorly on Portman's Jewish identity, however, her interview brought to light some upsetting realities about roles for women, and Jewish women, in Hollywood.
"I've always tried to stay away from playing Jews. I get like 20 Holocaust scripts a month, but I hate the genre," Portman said.  She gets 20 Holocaust scripts a month, but apparently none featuring Jewish characters in other genres. She avoids Jewish roles because they are exclusively Holocaust roles. Jessica Grose sums it up nicely at Double X.
I don't think she's a self-loather who doesn't want movie audiences to know she's Jewish (though she benefits from looks that are not stereotypically Semitic—her nose is small, her hair is straight). It's more that she's lamenting the lack of good Jewish roles outside of Holocaust movies. There, she has a point.

In the past ten years, I can think of only two non-Holocaust movies in which the female protagonist was explicitly Jewish: Two Lovers and Kissing Jessica Stein. It's worth noting that both these films were independent productions, and that in Two Lovers, Vinessa Shaw's Jewish character was meant to be less attractive than Gwyneth Paltrow's character, who is a shiksa (though in real life both Paltrow and Shaw are at least part Jewish). I literally cannot think of a single major studio picture with a Jewish heroine from the aughts...
Last night I watched Funny People starring a slew of Jewish actors (Adam Sandler, Seth Rogen, Jonah Hill, Jason Schwartzman) who have been seen in comedies, romantic comedies, dramas, and the new genre du jour, "bromance."  Tablet's memorable piece, "Gentleman Prefer Blondes," reminds us that traditionally, Jewish men play opposite the non-Jewish (or "shiksa") girl.  Funny People is no exception.  Dirty Dancing is one of the only films I can think of in which the female lead is both dynamic and desireable -- and she plays opposite a non-Jewish man! (Do we ever see Jew on Jew love?)
And now, with the influx of "bromances" -- comedies like I Love You, Man that feature male on male friendship as the primary relationship -- women are reduced to supporting roles.  (I Love You, Man happens to star Paul Rudd and Jason Segal, both Jewish.) Portman touches on this issue as well:  "It wasn't that I didn't want to do comedy. It's just that I would only get offered girlfriend parts in guy comedies, which aren't exciting to me, or those offensive roles in romantic comedies where the woman has to have a job in fashion so that she can have nice clothes, and her goal is always marriage."  Instead of "bromances," women get films like Bride Wars, Devil Wears Prada, and Mean Girls, that teach us that friendship is something to be traded for clothes, jobs, wedding dates, or popularity.
I am not the first or only to argue that there needs to be better roles for women in Hollywood. The only genre left in which women can play dynamic, strong, characters appears to be drama, and unfortunately for us, dramas don't make big money at the box office.  As this Washington Post article notes, a changing business model may mean the reduction of the one genre left for Jewish women like Natalie Portman.  Director Nora Ephron may have accomplished something with Julie & Julia last year, but I am waiting for "Rachel & Rebecca." Starring Rachel Weisz and, of course, Natalie Portman.
Visit JWA to learn more about Jewish women in Hollywood.
Subscribe to Jewish Women, Amplified and get notifications sent to your email.
How to cite this page
Berkenwald, Leah. "Natalie Portman has got a point." 11 January 2010. Jewish Women's Archive. (Viewed on January 18, 2018) <https://jwa.org/blog/natalie-portman-has-a-point>.