October 7, 2009
Beating Hearts: Stories of Domestic Violence
October is Domestic Violence Awareness Month, and Jewish Women International is posting daily stories of domestic abuse on their blog.  These stories are shocking, crushing, and sad.  They are also inspiring and thoughtful, with lessons about courage and love. 
The following post is cross-posted from the JWI blog.  It is taken from "Beating Hearts: Stories of Domestic Violence" an exhibit of photographic constructions with accompanying text by Kate Sartor Hilburn and Terrie Queen Autrey.  This particular story is important because it reminds us that domestic abuse reaches far beyond violence.  Abuse is about control, and often involves restriction, isolation, or even imprisonment.
The Window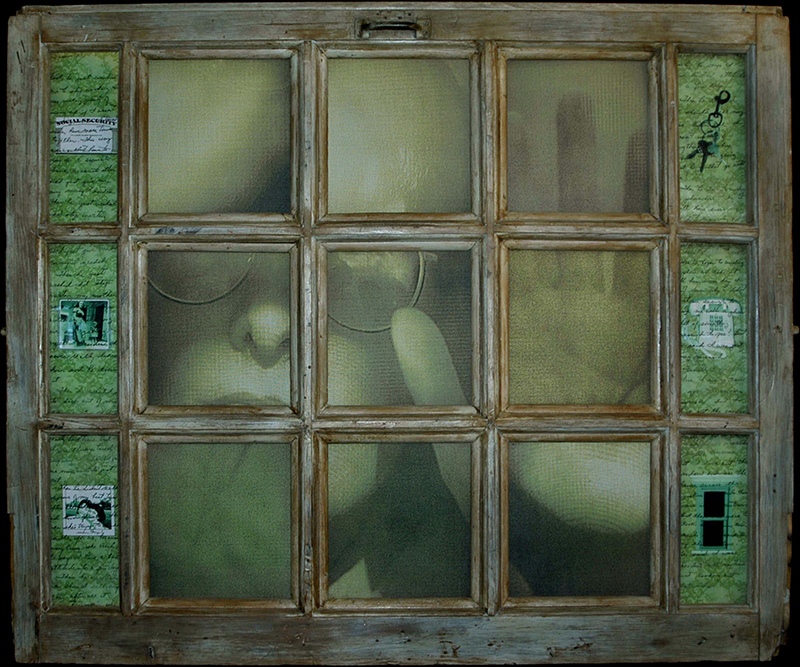 First, he just wanted me to stop working. He was making plenty of money, and if I wasn't working, we could travel. This way, we wouldn't have to pay for two separate bank accounts either. He'd just give me any money I needed.
Then, he just wished I'd stop inviting my mother over. She always ended up criticizing me and getting me upset. Besides, she never really liked him, and he knew it.
Then, he didn't really approve of my best friend. After all, she's divorced and kind of wild. Every time she visits, he says I have a bad attitude for a few days.
Then, he decided we should sell my car. After all, I wasn't working or anything, so where would I be going that he couldn't go with me?
Then he began to unplug the phone and take it with him every day. I don't know why he didn't trust me enough to leave me with a phone. What if something happened to me? But he said I was just being paranoid.
Finally it got to where I never saw or spoke to anyone anymore. But I could look out the window and see the house across the pasture. The kids there wave at me sometimes. But today he took a hammer and nails and boarded up the window. He said I was spending all my time just looking out that window.
For more stories and ways to get involved this month, visit the Jewish Women International blog.
Photo Construction 40"w x 36"h x 2"d ©2004 Kate Sartor Hilburn
Subscribe to Jewish Women, Amplified and get notifications sent to your email.
How to cite this page
Berkenwald, Leah. "Beating Hearts: Stories of Domestic Violence." 7 October 2009. Jewish Women's Archive. (Viewed on January 18, 2018) <https://jwa.org/blog/domestic-violence-awareness-month>.